Over 65 researchers, clinicians, NBIA family members and representatives of patient organizations were on hand for the final TIRCON meeting Oct. 15 and 16 in Munich, Germany, to take stock of all that has been accomplished over the past four years.
Treat Iron-Related Childhood-Onset Neurodegeneration, or TIRCON, was a European Union- funded research project for 5.2 million euros, or approximately $7 million. The grant started on Nov. 1, 2011, and ended Oct. 31, 2015 with a focus of advancing research into Neurodegeneration with Brain Iron Accumulation (NBIA) disorders.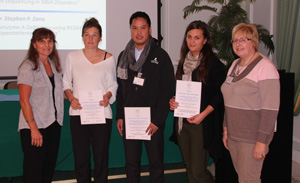 PRESS RELEASE
Date: November, 4th 2014
NBIA ALLIANCE AWARDS TRAVEL GRANTS FOR NA/NBIA SYMPOSIUM 2014 TO THREE RESEARCHERS
The international NBIA umbrella patient organization NBIA Alliance announces the award recipients of the travel grants to participate in the 3rd Joint Symposium on Neuroacanthocytosis (NA) and Neurodegeneration with Brain Iron Accumulation (NBIA), held in Stresa, Italy, from October 30th to November 1st, 2014.